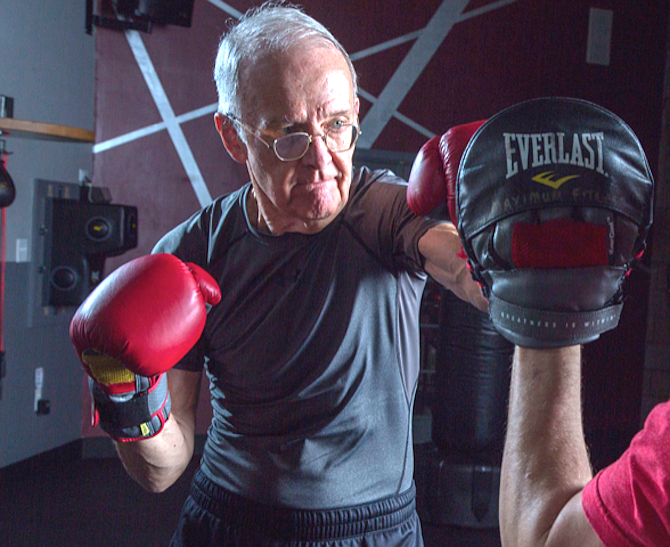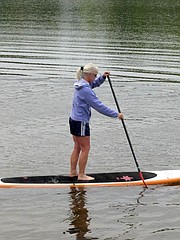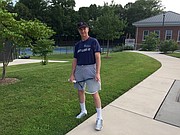 Whether starting a fitness program after the age of 70 or restarting one after raising children and midlife career building, local seniors share inspiring stories of how achieving and maintaining fitness, health and wellness allows them to lead fulfilling, happy and active lives.
After retiring at age 70 from a career in investment, Jim Owen said his life became sedentary. Aching knees and excruciating back pain determined his daily schedule and he tipped the scale at 205 pounds. His life, as he describes it, was on a steady decline.
"I was a certified couch potato and my back pain was robbing me of my energy," said Owen, now 79. "I said, 'I have to do something or I'll go down hill.'"
After seeking help from a doctor who specialized in sports medicine, Owen began physical therapy, his pain subsided and he was able to begin an exercise program. "I wasn't trying to be Mr. America," said Owen, who turns 80 next month. "My goal was to get rid of my aches and pains."
Though he found it daunting, but also necessary, he began making his way to the gym. Now his workouts include lunges and squats, push-ups, core work and cardio.
"When I started out at age 70, I couldn't do one push up; now I can do 50," said Owen. "The key is to start from where you are and with what you got. So much of it is mental and getting yourself to just try it."
Now he's committed to inspiring other seniors to achieve physical fitness, particularly those who have given up on healthy activity and vitality and have accepted a life of pain, illness and decline that can come with age.
He's written a book called "Just Move! A New Approach to Fitness after 50" and he produced a documentary called, "The Art of Aging Well," which he'll release to public television stations next month.
"I want to devote the rest of my life, whether it's five or ten years, to inspiring people to take care of themselves when they're older," he said. "There are some people who say 'My best days are behind me.' I think my best days are still ahead of me."
63-year old Kim Evans says swimming, biking and hiking were the activities that filled the summer days of her childhood. "For me, being active and fit has always been a part of my life," she said. "I competed in swimming and volleyball, was an All State swimmer in high school. That is my life long sport, I still swim weekly."
That passion for physical activity led to Evans' career as a fitness trainer whose clientele is comprised of seniors. "As I aged, I could see how what you do or don't do affects your quality of life," she said. "So I have always done the things that I need to do to stay healthy."
She trains seniors who've never been active, athletic or fit. "I do realize that some people just didn't have those [experiences], but it is never too late to start," she said. "You just begin at a different spot, and your progress may be slower." Evans lives in Rockville, but works with clients from around the area.
"When I started out at age 70, I couldn't do one push up; now I can do 50."
— Jim Owen, 79
Evans says that through her work, she has witnessed how easily one can start to a physical decline. She teaches her clients how to keep that downfall at bay by using exercises that are effective, but safe. "I don't want anyone to get hurt," she said. "Things like squats, pushups and the like are all daily moves. A squat is being able to get up from a chair, a pushup means you can roll over and get out of bed. As people age, they need to keep their muscles strong so they can function."
Though consistent and long-term exercise can be difficult to maintain, "I am always determined to make the effort to keep myself as healthy as possible, for as long as possible," she said. "I have taken up inline skating and stand-up paddle boarding. It has never occurred to me to not try something new, and that I attribute to being fit."
Bruce Revman had always led an active life, but his fitness level reached new heights when he decided to train for a marathon almost 20 years ago. He was so inspired by that achievement that he maintains a vigorous training program today, running 30 miles and cross training each week.
"[I] became hooked by the feeling of working towards something much bigger than just running," said Revman, 63 of Potomac. "I always have tried to stay in the kind of shape where if someone said to me, 'Hey do you want to run half-marathon next week,' I would know that I could run it without getting hurt."
Since that time, Revman has finished 22 marathons including last year's New York City Marathon.
"I … continue to run … and cross-train," he said. "There's no shortcut to staying well and in shape. And if you get overwhelmed as to what you should do, the key is simply finding something which … you can do every day. And, yes I mean doing something every day with varied degrees of intensity."
As a physician, 64-year-old Bob Posner, M.D., has always prioritized his health, but life events including an internal medicine residency program, service in the United States Army, and raising a family often took precedence over fitness.
"Exercise was limited, meals were often fast food … and I realized that weight started to pack on," he said. I exited the Navy in 1988 weighing over 190 pounds."
When Posner, of Fairfax, returned to life as a civilian and began his medical practice, his mindset began to change. "I vowed that I would try to set an example for my patients," he said. "How much credibility can an overweight or obese physician have in telling patients to lose weight to become healthier?"
Posner founded Potomac Internal Medicine Associates uses a program called SeroFit to help patients who want to get in shape. "It is never too late to embark on efforts to get into a more healthy shape," said Posner. "Looking younger, having more energy, lessening risks of severe medical diseases, alleviating pain and fitting into your beautiful clothes are the benefits of being in shape."
Working out with his wife, who is also dedicated to fitness, makes exercising more pleasurable, says Posner, and being fit has helped him maintain fulfilling relationships with his children.
"My son is a tennis player, my daughter is a hiking person and sharing time with them is best when I am doing activities with them that they enjoy," he said. "If I was sedentary and expected them to hang out with me I would probably see less of them than if I am able to keep up with them in their activities."
75-year-old Bonnie Frankel is driven by her goal of maintaining her physical, mental and emotional fitness for as long as possible. "My lifestyle is built around exercise and my sport, which is running," she said. "I cross-train with water workouts, monkey bars, yoga and other ground stretches."
The impact that exercise has on her life is her constant motivator. "Exercise helps me to eat healthier and drink better and more fluids," said Frankel. "It changes my mood from blue to sunny, as those wonderful endorphins start to kick in. I want to be able to live an independent long healthy life."
"Most of my life I have been fit, but there were a few times that I had hit rock bottom," such as when, at age 32, she was diagnosed with breast cancer and endured several surgeries. Swimming, one of her passions, was the therapy she needed to recover, she says.
"I found the sport that I completely resonated with," she said. "It's never too late to start exercising. Choose an exercise you most resonate with so it becomes your best friend. You will want to do it. If you desire to live a full and healthy life, physically, mentally, and emotionally, you have to use it or lose it."