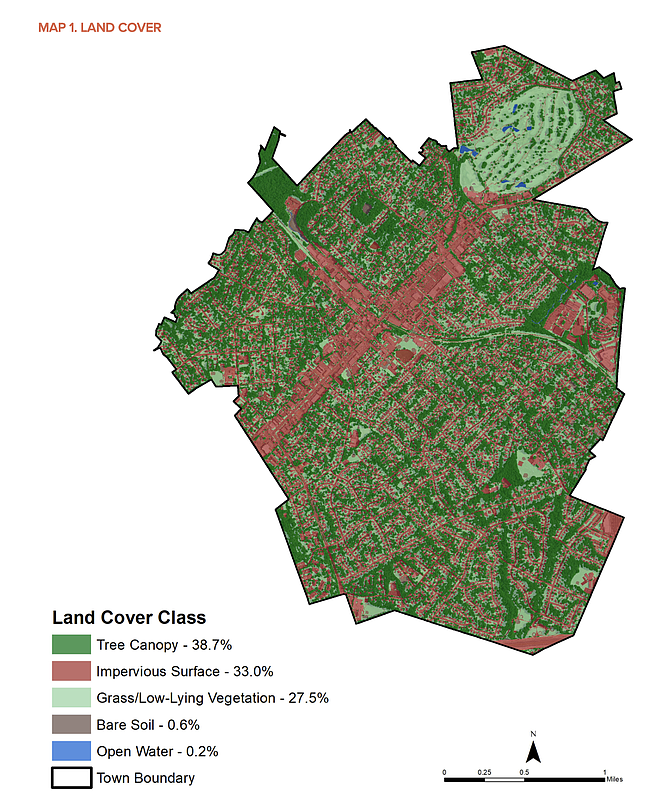 One of the top four priorities for the 2023 for Vienna Town Council is to find ways to increase and protect its urban tree canopy. A recent comparison of aerial imagery from 2021 of the Town of Vienna to imagery from 2011 shows that the tree canopy in Vienna has decreased by approximately 163 out of the 2,817 acres of land within the town limits over the 10 years.
Vienna will prioritize preserving and growing its tree canopy now and for future generations. 
"The bottom line is this: more trees are being cut down than are being planted, and this is unsustainable," wrote Steve Potter, Vienna Town Councilmember in "163 Acres of Vienna's Tree Canopy Has Been Lost in the Last 10 Years." 
On Jan. 9, 2023, the Vienna Town Council approved, in a split 4-3 vote, Councilmember Ray S. Brill, Jr.'s proposal to adopt four top priorities for 2023. 
The other three priorities are completing both the Code Create Vienna for zoning and the Parks Master Plan, including uses for the former Faith Baptist Church property on Center Street, and reviewing and revising the noise ordinance. 
Mayor Linda Colbert, council members Ed Somers, and Nisha Patel argued against approving the four priorities. Their concern was not the priorities but providing more public input.
Vienna Urban Tree Canopy Assessment
In October 2021, Vienna officials contracted with the Davey Resource Group "to establish baseline data on the extent and function of Vienna's existing urban forest, compare current canopy data (2021) to levels seen in the past, and provide a resource to guide Vienna's future community forest management efforts."
The report on the town's tree canopy was the first of its kind for the community, and it was made possible in part by a $7,500 federal matching grant from the U.S. Forest Service and the Virginia Department of Forestry.
The assessment used USDA one-meter resolution National Agriculture Imagery Program (NAIP) imagery and geographic information systems (GIS) data layers. It resulted in a GIS map layer that identified the extent of the existing tree canopy.
In 2021, the tree canopy covered 38.7 percent of Vienna or approximately 1,090 of the town's 2,817 acres of land within the town limits. Compared to 2011 imagery, Vienna's current tree canopy cover is 13.0 percent less. All trees within the town limits contribute to its overall tree canopy percentage, the urban forest.
Whereas the lowest level of canopy cover is located on the central west side of town, where much of the commercial property is located, the majority of tree canopy is concentrated on the northwest and south side of town.
Vienna's greatest canopy cover concentration is in residential areas, parks, and other lower-level developed areas. Conversely, the town's commercial, industrial, and other higher-level developed areas have the highest percentage of impervious surfaces.
The report assesses the annual value of the ecosystem benefits of Vienna's tree canopy at more than $4.3 million, with $4 million benefiting stormwater management. 
"Our tree canopy provides an annual reduction of 23.6 million gallons of stormwater runoff and 37,710 tons of carbon stored within Vienna's trees, " Potter wrote. 
The report identified more than 650 acres of suitable planting areas in residential neighborhoods in the southwest and southeast parts of town. Another neighborhood with a higher classification is located south of the Westwood Country Club.
"If these areas were to be planted, the overall canopy level of Vienna would rise from its 2021 level of 1,090 acres to 1,303. This would bring the canopy level to 46.3 percent, a percent change of 19.6 percent when compared to 2021's 38.7 percent," states the report. Trees can also be planted within the town-maintained street right-of-way.
How To Preserve and Expand Urban Canopy
The report provided guidance on preserving and expanding Vienna's urban canopy so that its environmental, economic, and social benefits can be sustained for future generations. The following steps are required:
Develop a percentage target for the town's tree canopy.

Offer assistance with tree planting and preservation programs and activities.

Get residents and stakeholders in Vienna to support and participate in tree-related activities by engaging and educating them.

Create a program to encourage tree planting on private property.

Write a Vienna Urban Forest Master Plan.

Create a list of the town's public trees in street right-of-ways, parks, and other public property.

Continue to collect and maintain data on annual tree planting expenditures and tree planting numbers to keep Vienna's "Tree City USA" designation.
The report says that new research by 
American Forests recommends a 40 to 60 percent goal for urban tree canopy
. 
In October of 2022. Kirkland Kirkland & Ellis LLP, Town of Vienna Conservation and Sustainability Commission prepared a report on "Trees in Vienna: A Review of Programs to Help Vienna Preserve and Manage its Tree Canopy." This report looks at how Vienna could retain, replace and add trees, especially in light of the teardown-new home development, resulting in a loss of mature trees on residential lots. 
See www.viennava.gov/home/showdocument?id=4451, to learn more.