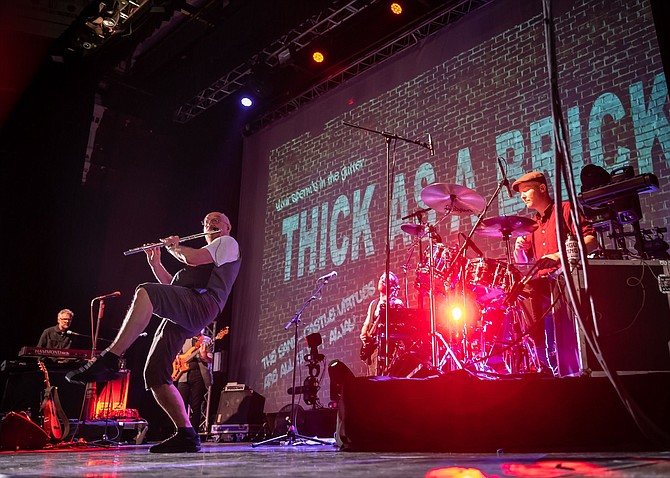 The progressive rock band Jethro Tull starts the "Seven Decades" concert tour of the United States in August with a song set going back to the 1970s mixed in with songs from their new album "Rökflöte," which is interpreted as "Rock Flute," the instrument that made this band famous through the years.
Manning the rock flute is Ian Anderson, the legend behind Tull's sound and master of this instrument from the woodwind family, and it's a sound rarely heard in the rock world. Anderson said in an interview last week that he  "carved out that territory," but he noted that others have dabbled with it too. Namely bands like Traffic, the Moody Blues and Peter Gabriel in Genesis.
Anderson is known for the flute sound though, gaining momentum from their start in 1968, growing from there with influences like Muddy Waters, Beethoven, early Pink Floyd, and later sounds of the Beatles. The Sgt. Pepper album was one that stuck out in the list. 
"Early influences were from the blues," Anderson said.
Jethro Tull started out in 1968 in London and as in many bands, hadn't settled on a name. Somehow they came across a mention of Jethro Tull, an eighteenth century English agricultural pioneer who invented the seed drill. The band adopted the name in February 1968 for a performance at London's Marquee Club and it stuck.
As the front runner in the very beginning, some fans thought that was Anderson's name, but he just brushed it off. No sense getting excited about it, he had songwriting and melodies to worry about. 
"It happened quite frequently in the early days," he said, "they thought that I must be Mr. Jethro Tull."
Burke resident Tim Kilbourn remembered a road trip to see Jethro Tull in New York when he was a teenager. The year was 1971. "We heard there was a concert and Tull was the main act, [Anderson] looked like a mad man," Kilbourn said. "They weren't straight rock and roll, more free spirited," Kilbourn said.
Viking Variations
Looking at some of the artwork and video from past shows, there is a hint of middle ages mythology connected with the band, and the flute sound goes along with that motif. Anderson mentioned a song of theirs from 1976 that was "loosely based," on Norse influence but it was only one song, and he's not too familiar with that age of Nordic beliefs connected with North Germanic peoples. After all, he's from Scotland and has spent some time in London.
One of their new songs, "Hammer on Hammer," for instance, has a video that starts out with swords and armor, evolves into jet fighters and modern warfare, and then back to hammers and metal smithing. It evokes a medieval tune.
Ian Anderson was born in 1947 in Dunfermline, Fife, Scotland. After attending primary school in Edinburgh, his family relocated to Blackpool in the north of England in 1959. He went on to art college to study fine art before deciding on an attempt at a musical career. In 2006, he was awarded an Honorary Doctorate in Literature from Heriot-Watt University in Edinburgh, and the Ivor Novello Award for International Achievement in Music.
Anderson uses his time on tour to learn about the history "applicable to where I am," he said. "There's always something new to learn." This tour is predominantly in the northern parts of the United States and out west so he may delve into historical events along that path. When traveling, "I tend to step outside and sniff the air and see if I can smell the history," he said. Virginia offers no shortage of history.
Being on the road puts him "out of my comfort zone," he said, and he looks forward to his cats greeting him as he walks in the door back home.
If you go....
Jethro Tull
Thursday, Aug. 24, 8 pm
Wolftrap National Park for the Performing Arts, Vienna
https://www.wolftrap.org
866-245-6062