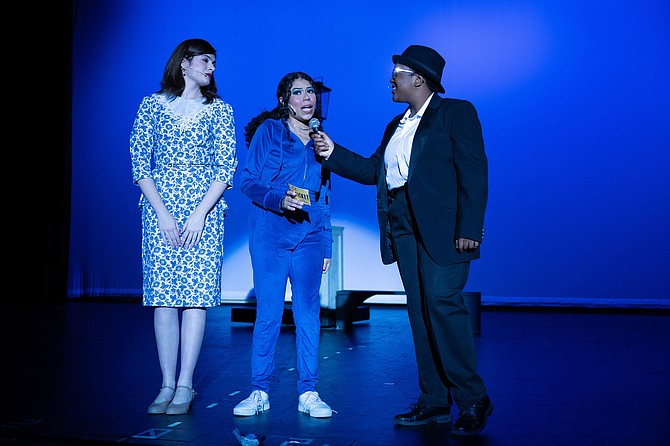 "Roald Dahl's Willy Wonka'' at Centreville High School brought audiences to a world of pure imagination with their particularly sweet take on a classic tale. Their attention to detail with tech elements and cast of talented actors worked in perfect harmony with the dazzling sets and catchy musical numbers that created a delectable and immersive experience for all ages.
"Roald Dahl's Willy Wonka", adapted from Roald Dahl's twisted children's novel "Charlie and the Chocolate Factory" follows the journey of Charlie Bucket, a young boy from a humble background who quite literally strikes gold when he finds a golden ticket to visit the mystical and whimsical chocolate factory of the eccentric Willy Wonka.
The duo of Charlie Bucket and Willy Wonka was this show's beating heart, and Alexander Cox and Madelyn Regan took on these leading roles with grace and passion. Cox, as the sneaky chocolatier Willy Wonka, delivered a layered and complex performance that audiences couldn't help but root for, and his gentle demeanor and innocent expressions provided humanity for a morally gray icon. Freshman Madelyn Regan as Charlie Bucket beautifully contrasted Wonka's evil streak with unrelenting optimism and big emotions. Regan's thoughtful portrayal of a young man going from rags to riches was positively excellent.
The ensemble cast of children and their parents brought these characters to life with enthusiasm and energy. Each monstrous child and their accompanying parent were elevated by strong choices by the actors portraying them, notably the pairing of Mike TV and Mrs. TV, brought to life by Elliot Carreon and Nix Ponturo, respectively. Their big, animated, facial expressions and body language perfectly played into the musical's cartoonish, childlike wonder.
The set design was a standout feature of the production, transporting the audience into the fantastical world of the chocolate factory with stunning visual effects and intricate details. The use of lighting and projection screens assigned each child a specific color that followed their journey through the wondrous Wonka world. The head of lighting Elisabeth Stuebner was up for the challenge with these intricate effects, and this creative mindset paid off with the show becoming an immersive experience.
High energy dance numbers from the tricky Oompa Loompas, as well as creative physical choices such as a bedsheet chocolate river and use of puppetry brought this show to the next level. These innovative ideas immersed the audience in the show's fun spirit, and bubble machines brought viewers of all ages into the mystical enjoyment of the burp-filled bubble room.
Centreville's take on this Roald Dahl classic was a fun-filled and magical experience. With its talented cast, dazzling sets, and catchy musical numbers, this show cemented itself as a sugary-good resurgence of a beloved story.