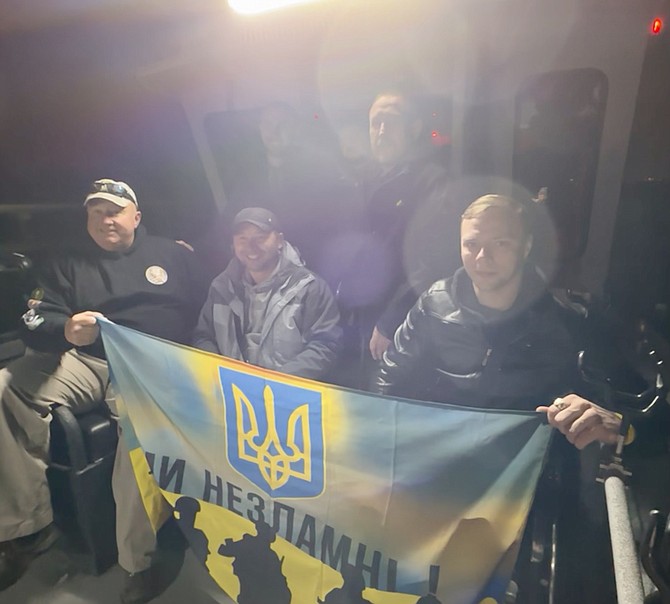 When retired Marine Ed Moore found out that three Ukrainian soldiers with amputations would be in the area to be fitted with prosthetics after injury on the battlefield, he did what any Marine would do … he offered to take them fishing.
Veterans Fishing Adventure was started by Moore and his daughter Haley. They've been offering veterans and their families fishing and boating trips on the Potomac River and Occoquan River for four years. With up to four boats, they offer as many as three trips per week. Veterans Fishing Adventure specializes in offering those with physical limitations an opportunity to participate and allowing those with disabilities to take their children fishing. Their non-profit, volunteer organization with specially fitted boats is able to offer this opportunity to be on the water at no cost to U.S. service veterans, to enjoy a pastime that many of us enjoy without much thought for the logistics. https://veteransfishingadventure.org/
Early, at 5:30 a.m. on Saturday morning, because fishing often starts early, the three soldiers, their translator, and the boat crew gathered dockside at the Pohick Bay Regional Park Marina. First activity of the day — set nets to catch bait fish for the day's fishing excursion. After 13 fish, mostly shad with one or two carp, were netted by volunteer crew members Scott Cole and Tim Majewski, plus boat captain Moore head the Knot4gotn east into the sunrise for a promising day of fishing adventures and sightseeing along the Potomac River. 
Onboard, tucked warmly in the boat's cabin on the chilly morning, the three heroes of Ukraine set out for a day of stress relieving fishing adventure. 
Ruslan Tyshchenko, age 44, a sapper commander, served in the National Guard of Ukraine for 25 years as a combat engineer. Since the beginning of the war, he led a group of sappers, involved in removing mines in liberated Ukrainian territories. A sapper is a combat engineer with duties such as demolitions, bridge-building, preparing field defenses and road repair. 
On June 8, while performing a combat mission near the city of Balaclava in the Kharkiv region, he came under fire from an enemy tank. Shrapnel hit a vital artery. With major damage to his artery, he lost his left leg and severely injured his right.
Oleksandr "Alex" Fedun, age 23, an entrepreneur in the Zaporizhzhia region, left his business and family at the outbreak of the war to defend Ukraine. On May 14, during a combat mission, Fedun's car was ambushed by the Russians and he received serious injuries to both legs caused by a mine explosion. He was able to save his own life by applying tourniquets to stop the bleeding, but when he was evacuated to the hospital, both legs had to be amputated.
Anatoliy Kirda, age 59, was a career seaman, away working on Israel's offshore oil rigs when Russia attacked Ukraine. He left immediately to volunteer at home. He first fought in Kiev. After that city was secured he moved on to Izum in the Kharkiv region. He was in his trench when a Russian mine flew it causing his injuries which resulted in the the loss of his right leg.
The three men, among the most severely wounded, are here in the U.S., two with their wives, receiving medical care thanks to assistance from three non-profit organizations: Veteran Success Resources Group, United Help Ukraine, and Medical Center Orthotics & Prosthetics. 
Veteran Success Resources Group is dedicated to facilitating access to professional and personal resources for veterans and their families. United Help Ukraine was started in 2014, after the initial 2014 Russian attack on Ukraine, by a small group of people who met at a protest in Washington, DC. Most, but not all of the founding members have a personal connection to Ukraine. Along with other avenues of support for the country, the group sponsors dedicated fundraisers for the Ukrainian wounded, including those who are being treated in American hospitals, and support for their families. They are covering the non-medical expenses to bring the three soldiers and the wives of the two who are married to Silver Spring, Md. for prostheses and physical therapy. 
Medical Center Orthotics & Prosthetics recently announced "Operation Renew Prosthetics," providing care to the most severely injured Ukrainian soldiers who have had amputations. They previously assisted a hip disarticulation amputee, donating time and expertise, and are assisting the three soldiers with complete leg prostheses this month. They expect to assist two more patients who will visit their facilities in the coming months.
A day of fishing on the Potomac River provided a break between medical appointments for the three Ukrainian men. Fishing is an activity that many Ukrainians once had time to enjoy in their county filled with lakes and rivers. There the main fish species caught is the Common Carp (Cyprinus carpio). The catch for this day on the Potomac was Blue Catfish. A large fish, but not as large as Ukraine's Wels Catfish, the largest freshwater fish in Ukraine which can attain a weight of 100 kg (220 pounds) at the age of 80-100 years.
Kirda had the catch of the day on Saturday, pulling in a 39 pounder. The boat did well according to Moore, with most of the fish released back into the Potomac. Two were saved for the soldiers to sample. As Moore explained that the mercury levels limit the amount of fish recommended for safe eating, the soldiers broke into spontaneous laughter. Telling Moore that food scarcity in wartime Ukraine had sometimes forced the soldiers to eat dogs, frogs and snakes as they held positions in the forest, doubting that a little mercury would be an issue. 
When the boat returned to the dock on Saturday afternoon, dozens of community members were on hand to greet and applaud the fishermen. Police and fire trucks stood sentinel. Retired Cmdr. Kirk Lippold, who commanded the USS Cole when the ship was attacked by al-Qaeda in 2000, presented the men with copies of his book, "Front Burner" which captures a critical moment in America's battle against terrorism. 
"Catch the Fever" presented each man with a new high-end fishing rod. Even Santa and Mrs. Claus were on hand to show support. And many photos were taken to mark the day.
Although it may be traditional to enjoy a fish fry after a day of successful fishing, Moore didn't want the Ukrainians to leave without experiencing an American Thanksgiving feast. He hosted a meal at his house on Sunday, serving the fresh caught fish on the side, along with the usual Thanksgiving fare. Five turkeys, two hams, stuffing, gravy, green beans and pies fed bellies, and sustenance for the soul. With ongoing deprivations and food scarcity in Ukraine, it may be a meal they will remember for the food, but more significantly, a reminder of what can be accomplished after injury.
All those that encountered the men during their visit no doubt hope that their morning sail toward the bright dawn sky will be symbolic of the start of brighter days to come for these determined Ukranians, and the Ukrainian people, though they face continued daunting struggles.
For more information about the Veterans Fishing Adventure or to inquire about a trip: info@veteransfishingadventure.org. For more information on or to donate to the organizations mentioned in this story, see https://unitedhelpukraine.org/; https://vetresourcegroup.org/ ; and https://mcopro.com