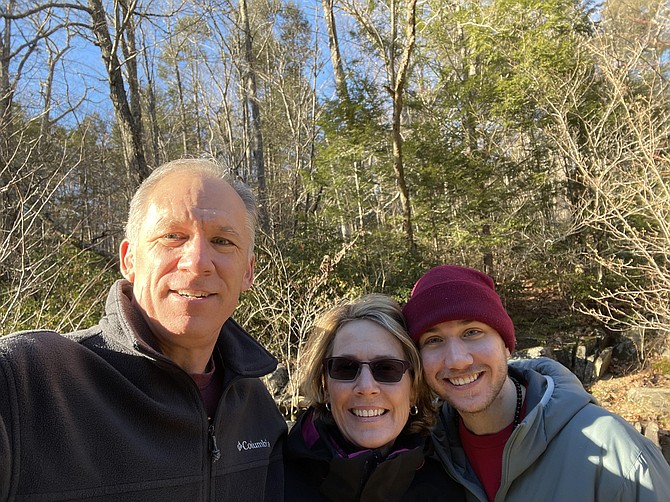 Jasper Aaron Lynch's twin sister wanted to help her brother who was having a mental health crisis. Three Fairfax County Police officers hoped to help, too. 
The evening of July 7, 2022, 26-year-old Jasper Aaron Lynch was experiencing a mental health crisis, detached from reality his sister told Fairfax County Police. He was throwing and breaking objects inside the family's McLean home, pacing, and possibly hadn't slept or eaten in days. 
She had traveled from New York to help him.
"We could not have walked away from that incident, we have a duty to care," Fairfax Police Chief Kevin Davis said at a press conference on Friday, Aug. 5, 2022, when police released body-worn camera footage. In Fairfax County, police release body worn camera footage within 30 days of a police involved shooting except when to do so would interfere with the investigation.
BEFORE THEY ENTERED Lynch's family's house, the three police officers, who had been trained in crisis intervention deescalation techniques, asked Lynch's sister many questions to determine the best way to approach her brother. They said they hoped to get him to go with them, so he could be evaluated for treatment, and warned that they would need to handcuff and search him.
A friend of the family warned officers that Lynch had been upset when anyone tried to go in the house.
Lynch's sister told officers that he was experiencing thoughts that people were out to get him.
"Hey bud," one officer said as they entered the home. "We're here to help."
"Are my parents here?" Lynch said.
"You're not in trouble, we just want to help," one of the officers said. 
Almost immediately, Lynch threw a decorative wooden mask at officers, then ran toward them, swinging a champagne bottle, as he got within feet of the officers.
Two of the officers attempted to use their electronic control weapons, or tasers. Police Officer First Class Edward George, a 10-year-veteran, discharged his firearm four times, killing Lynch at the scene despite the officers' attempts to render aid.
The officer fired the fatal shots less than 30 seconds after entering the house.
"We have to respect the family's privacy. I am not going to offer an assessment of how the family feels or doesn't feel. They are going through a lot right now," Davis said.
Shortly after Davis wrapped up, Jasper Lynch's parents, Pat and Kathy Lynch, expressed how they felt.
"Our son, Aaron, was experiencing a severe mental health crisis on July 7. He was scared and asked for both of the 911 calls that were made that day. We believe that the three police officers who answered the second 911 call could have, and should have, handled this far differently. To respond to Aaron's mental health crisis by shooting him at all, let alone multiple times, cannot be justified.
"We recognize that, at times, police officers face grave and unknown dangers in the line of duty, but that was not the case for that call at our home regarding our son. Aaron was about 5' 6", slightly built, and holding just a bottle and a decorative mask."
POLICE HAVE RESPONDED to 6,700 behavioral or mental health crisis calls in 2022, Davis said, more than 30 such calls a day. Davis repeated multiple times that use of force was employed by police less than one percent of the time.
Criminal and administrative investigations in this case are underway.
"Our investigation will reveal in fact if those tasers hit, if in fact they took effect, and if they didn't why not. I don't have that information at this point," said Davis.
But Lynch's death is a reminder of the critical importance of implementing a new model model so clinicians are available to assist officers during mental health crisis calls. The new program calls for behavioral health crisis intervention specialists to be available to respond to calls with police, sometimes taking the lead in de-escalating crises.
The county finished its first phase of the program and entered the second phase on Aug. 8, 2022. 
"By the time we get to phase four of our co-responder program we will have about 16 clinicians riding with police officers. Right now, we have one clinician that is available on certain days and times of the week," Davis said. 
In fact, a crisis intake clinician had gone to the home with police after the first call to police at 7:11 p.m., but Lynch was not found. 
According to Davis, that specialist's "tour of duty" ended and he was in another location doing paperwork when police were called to the home a second time at 8:34 p.m.
"As parents, we mourn the heartbreaking loss of our son and are left with only memories and regret," said Pat and Kathy Lynch. "Had we known there was any possibility that the police responding to the second 911 call would use lethal force against Aaron during a mental health crisis, we would not have involved them until a mental health counselor could be present, as was the case for the response to the first 911 call.
"We hope our efforts to find out more about this incident will, in the future, help families in similar situations avoid such a tragic outcome," they said.
Davis said of the co-responder model, "It's not a silver bullet. It's our responsibility, both law enforcement and even local media, to manage expectations. It will certainly result in many more better outcomes for people in crisis. Is it going to eliminate use of force? Probably not."
WHEN ASKED questions such as why three officers couldn't have done something differently to control a 26-year-old in crisis, Davis said he didn't want to "get too deep down a theoretical hole."
Civilian members of police oversight groups have called for the chief of police to maintain a neutral position on police actions until after the investigations are complete.
"I want to be very careful not to offer any assessments or any opinions but I think it's clear to see from the video that that was a very active and chaotic incident," said Davis.
All three officers involved in this incident have been placed on restricted duty pending the outcome of an investigation by Internal Affairs Bureau. An independent review will also be conducted by the Fairfax County Independent Police Auditor, Richard G. Schott. 
The Office of the Independent Police Auditor was established by the Board of Supervisors on the recommendation of the Ad Hoc Police Practices Review Commission, in the wake of the police shooting death of John Geer of Springfield in August 2013. The recommendations of the commission also led to the timeline for release of information.
There have been five officer involved shootings so far in 2022; in 2021, there was only one. Three of the five officer-involved shootings this year involved someone with a mental health crisis.