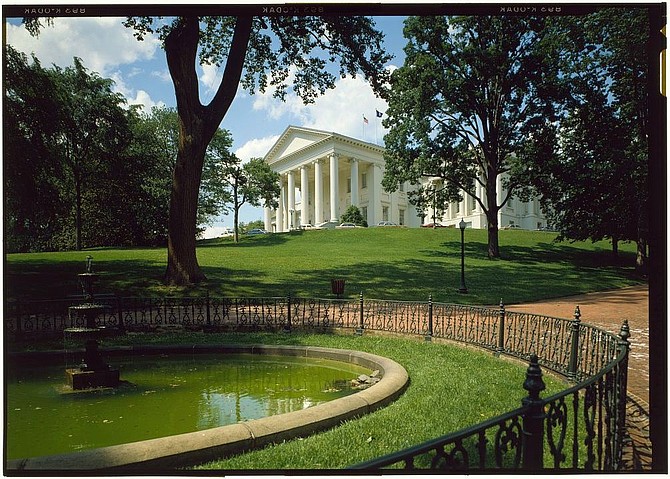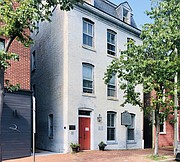 The threadbare Franklin and Armfield office on Duke Street stands at the crossroads between racial injustice and economic crisis. It's a ramshackle building now, but it was once the headquarters for the largest domestic slave trading firm in the United States, present at the creation of the systemic racism that plagues Virginia cops and courts. It's also the city's latest acquisition, and the state budget was to include $2.5 million to help transform it into the Freedom House Museum.
But then the pandemic hit, and the governor hit the pause button on that line item as well as all the other spending priorities of the new Democratic majorities in the House and Senate.
Last week, the governor called for a special session on Aug. 18. Lawmakers will head back to Richmond and rebalance the books after the revenue losses associated with the coronavirus pandemic. They'll also consider a host of criminal justice reform efforts that have emerged in the wake of the death in May of George Floyd, an unarmed black man who was killed by white police officers in Minneapolis.
One of the budget line items on the chopping block is that appropriation to help renovate the old Franklin and Armfield office.
"Our investment in restoring Freedom House dovetails with what we are trying to learn and what we are trying to teach people about this issue," said Sarah Graham Taylor, legislative director for Alexandria. "But we're also realistic about the budget environment and the competing priorities."
Before the pandemic, the new Democratic majorities in the House and Senate passed an ambitious $135 billion budget loaded with new spending priorities. Then the economy crashed, and Gov. Ralph Northam hit the pause button, unalloting $2.2 billion of new budget line items. At the time, a doomsday scenario from the Secretary of Finance projected that lawmakers would need to slash as much as $2 billion out of the budget. But the revenues weren't all that bad, and members of the General Assembly are probably going to be forced to cut only $1 billion.
"I was able to get funding into the budget for sexual assault and domestic violence, making sure we have an education program and that we're supporting social services," said House Majority Leader Charniele Herring. "That's still a priority of mine, but because of what's happened we may have to triage. So it may not be able to be fully funded."
Public-school teachers might not end up with the 2 percent raise they were promised before the pandemic. Colleges and universities might not get money that was earmarked to help keep tuition from increasing. Local governments might not get money for affordable housing programs, and a series of water-quality improvement projects might be on the chopping block. Lawmakers are hoping Uncle Sam will bail them out.
"We don't have anything from Congress as to how much support they may provide because they've not provided any support thus far related to revenue reductions," said Sen. George Barker (D-39). "In fact when they did the CARES Act back in April, they explicitly said none of this can be used for that. Everything has to be used for expenditures that are new expenditures specifically related to the coronavirus."
"If you're mentally ill and something's wrong and someone shows up with a gun and a uniform, that's not as reassuring as having a mental health counselor come and de-escalate if an officer wasn't needed."
— Sen. Adam Ebbin (D-30)
CRIMINAL-JUSTICE REFORMS will take up time and attention during the special session, and lawmakers will be trying to navigate their way through a series of complicated changes at breakneck speed. Last month, Senate Democrats released an expansive list of proposals including everything from banning no-knock warrants and chokeholds to cancelling funding for police departments that have disproportionate use of force incidents. The list also includes reforms like prohibiting officers from having sex with detainees and prohibiting police from shooting at moving vehicles.
"I think the most important thing, because it's what created the situation, is policing. We have to deal with the recruitment, training and pay," said Senate Majority Leader Dick Saslaw. "Three years ago, the beginning pay for a state trooper was $36,000. We raised it to $44,000 because we were losing people left and right. You can't tell somebody to put their life on the line for $44,000 a year. It's absurd."
Some of the proposals from Senate Democrats would expand local authority, which is limited by a quirk of Virginia government known as the Dillon Rule. One proposal would create an option for local governments to have citizen-review boards with power to investigate, and possibly even discipline, officers accused of wrongdoing. Another proposal would create authority for local governments to use mental health staff to respond to particular calls for service instead of law-enforcement officials, sometimes called Marcus alerts.
"If you're mentally ill and something's wrong and someone shows up with a gun and a uniform, that's not as reassuring as having a mental health counselor come and de-escalate if an officer wasn't needed," said Sen. Adam Ebbin (D-30). "When they talk about defunding the police, this is where a lot of this misinformation comes from, because rather than defunding they're talking about adding funding to have mental health counselors available."
Although Senate Democrats have released a list of proposals they'll pursue during the special session, House Democrats are taking a different approach. They have scheduled a series of virtual public hearings where they will take testimony from interest groups and stakeholders. Then, after the hearings, House Democrats plan to announce a list of priorities. Del. Mark Levine (D-45) said he will use his position as chairman of the Public Safety Subcommittee to make sure police unions aren't exerting undue influence over disciplinary decisions..
"There's a question about police unions, and I think we need to divide them up into seeking benefits like pay, health care, PTSD, paid-family leave and vacations, which I think they have every right to collectively bargain for," said Levine. "And then there's things like chokeholds, discipline and use-of-force standards. They can have their say in the discussion, but it can't be part of any police contract."