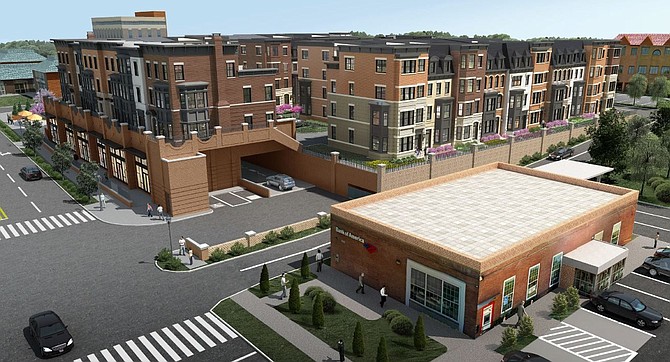 Developers are working with the Town of Vienna officials on a new mixed-use project they are calling "Vienna Market," to fill the void where the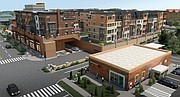 Marco Polo Restaurant was at Maple Avenue and Pleasant Street.
The plans include a four-story mixed-use building with 8,200 square feet retail space on the ground floor and six townhouse condominiums above, and 38 standalone townhouse condominiums. This was approved by Town Council on May 7, 2018, when the Town Council approved the rezoning from C1-A to Maple Avenue Commercial, "MAC," town information stated. The Board of Architectural Review reviewed the plans at their regular meeting on Thursday, Aug. 15 and asked for lighting specifications, brick frontage design options and different landscaping at the base of the retail area. Other minor cosmetic options are on the table as well, but the project is moving forward.
Northfield Investment and Development is behind this project which will transform this whole section of prime town commercial space with housing, stores, eateries and landscaping. There will be a 2,700 square-feet plaza as well, and a portion of the plaza can be outfitted with outdoor table seating for the accompanying retail spaces. Northfield is a development company located in Washington, D.C. and are behind a similar project in Annandale called Heritage Plaza, "transforming the existing plaza into a thriving mixed-use community," their information stated.
A new interior street called Market Street will serve the townhouse condominiums. Market Street will be a U-shaped access drive around the two center rows connecting back to Church Street at each end. A 30-foot landscaped area with a four-foot wide walkway is going in between the two center rows of units.
Chelsea Buoye is the office administrator at EdwardJones investing on Church Street, and has watched the site go from an old restaurant that was the victim of a fire, she said, to a construction site in a matter of a few months. She heard about the Vienna Market plan briefly. "Good for the town probably, we'll see," she said, but was concerned about the height of the residential buildings.
The Town of Vienna was reluctant to talk about a completion date, and referred all schedule questions to the builder, who has not returned calls or emails.