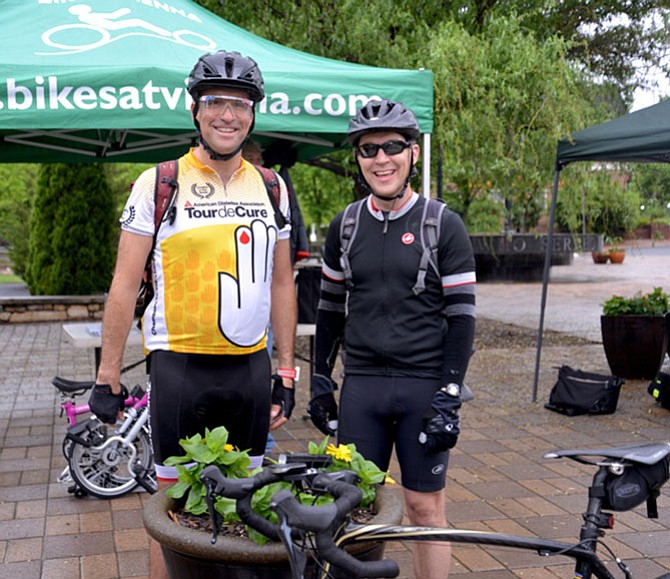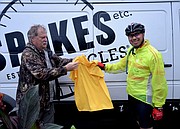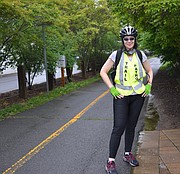 May is National Bike Month and Friday, May 18, was Bike to Work Day (BTWD). If you thought any of the 17 pit stops set up around the County (including five new ones for 2018) would be vacant because of the uncooperative weather, we can report that there were plenty of hardy souls who pulled off the Washington & Old Dominion Trail for a chat, some nourishment and the t-shirt and other swag that registered participants received from equally undaunted vendors and volunteers.
Jeff Palmer, manager of the Vienna Spokes Bicycle shop was the official host of the Vienna location. He has been participating in the event since 2010.
"We get about 330 cyclists stopping by, though the numbers might be a little less this year with all the rain," said Palmer, who says the event is as much about advocacy as fitness.
"We need our elected officials to see the interest there is in cycling, not just for recreation, but for transportation. We need their commitment to building and maintaining trails, and adding connection points so that we can cycle safely and effectively from here to there. And please say 'thanks' to Starbucks for the coffee and Giant for the bananas and water!" he added.
Whatever their route, dozens of cyclists who made the Vienna stop, just where Maple Avenue intersects the W&OD trail, were traveling significant distances to get to their destinations.
SOME OF THOSE RIDERS:
Dan Combs of Vienna, and Eric Lacey of Oakton often meet up on the trail to cycle together across the Potomac River via the Key Bridge. Lacey veers off in Georgetown, while Combs pedals a little farther into the District. Both try to do the "bike to work thing" at least three times per week.
"A little rain isn't so bad," said Lacey, but he admits that the winter weather sees him use alternate transportation in to work. "I am not that hardy," he laughed.
Andrea Saavandi has been riding to work between Vienna and Arlington for about 8 years. "I started on this rental bike, just to see. Not too long before I had my own bike," she said, as the owner of Bikes of Vienna and local event sponsor Tim Fricker did some quick maintenance on her ride, pumping up a tire and just checking things out.
Ron Racinez does a shorter route than some of his cycling compatriots, travelling between Reston and Vienna, but since starting on this pedal-powered mode of transport in 2001, he's racked up some serious miles. What does he think of the Bike to Work Day event? "Great, ...and a chance to stop and visit with some others that you wouldn't normally do."
Ryan McKinney, who zips along between home in Reston and work at the Langley School in McLean where he has taught for 15 years, sees cycling for transport as not only a way to keep himself fit and feeling good, but "it's also important to show a good example to the students. Feeling healthy, staying healthy, it's more than just sports at school. It's something you can do everyday as part of your life."
Anne Pastorkovich of Fairfax has been a W&OD Trail user for years. She's also a volunteer Trail Patrol member, and encourages other users – cyclists, runners, walkers, even horse riders – to be one, too. "Check it out and sign up at www.wodfriends.org" she urged. "We are trained to handle a lot of situations, help with minor repairs, give directions, and assist in case of emergency or injury." Pastorkovich rides the Trail several times a week and is happy to give back to keep the Trail experience a good one.
In all, more than 17,000 Metropolitan Washington area residents were expected to leave their cars at home and use old-fashioned people power to get where they were going. The annual event is co-sponsored by Commuter Connections, a program of the National Capital Region Transportation Planning Board at the Metropolitan Washington Council of Governments (MWCOG), the Washington Area Bicyclists Association and local governments like Fairfax County.
In a statement released during the event, MWCOG cited encouraging statistics from the 2016 Bike to Work Day survey, which found that 14 percent of the participants that year were first-time cyclists, while 28 percent of the veteran cyclists reported increasing the number of times they ride per week after joining in the Bike to Work Day fun.
Visit www.commuterconnections.org/bicycling/ for more information, and stop by your local bike shop for personal assistance and to experience the friendly, and growing, area cycling community.