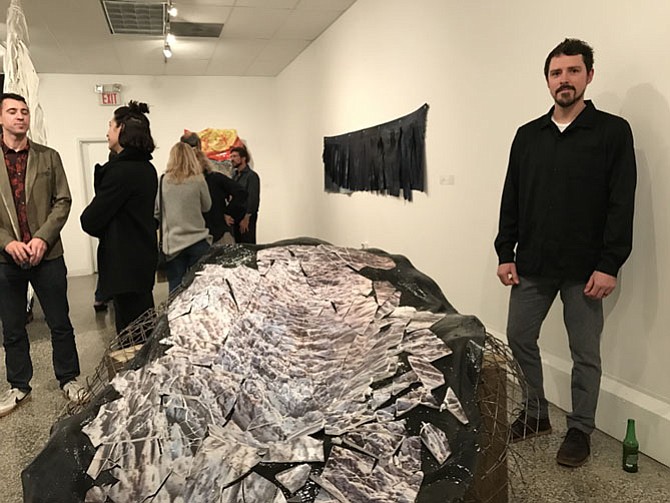 The exhibition "Nature as a Prototype," presented at the Mclean Project for the
Arts, evoked a calming energy that mixed with the cold air outside. The three artists – Yoko K, Adam Nelson, and Grethe Wittrock – proceeded to share how their concept of how nature has deeply influenced their work.
Grethe Wittrock, from Denmark, grew up next to fjord and has used water as one of her primary mediums to work in. One of her pieces, "The Blue Whale," was made of a long sail and cut into teeth as if you were looking from the inside of a whale's mouth outward.
Adam Nelson from Raleigh used Google Earth and other 2-dimensional images to try to re-create images from places he's never visited. He over-layed plaster on top of dark black glue using wiring from sidewalks as the backbone for the piece.
All of the artists recognize the disappearance of nature due to human impact, and reflected this topic in the exhibition.
The third artist of "Nature as a Prototype" was Yoko K from Nagano, Japan. She is an ambient musician, and created a tranquil setting at the MPA with her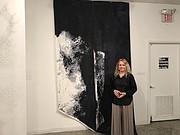 flowing music. She has done extensive research on alarm fatigue which is constant noise and alarms that can affect human health. Her songs are meant to offset alarm fatigue with simple sounds like cello, and the heartbeat. She has walked the halls of hospital's experiencing these noises firsthand, and spoken to doctors and patients about this problem as well.
The Mclean Project for the Arts has been around for 56 years bringing local and emerging artists from the mid-atlantic region into the limelight. The studio space on Chain Bridge Road has brought three shows recently and offers classes as well. Visit mpaart.org.