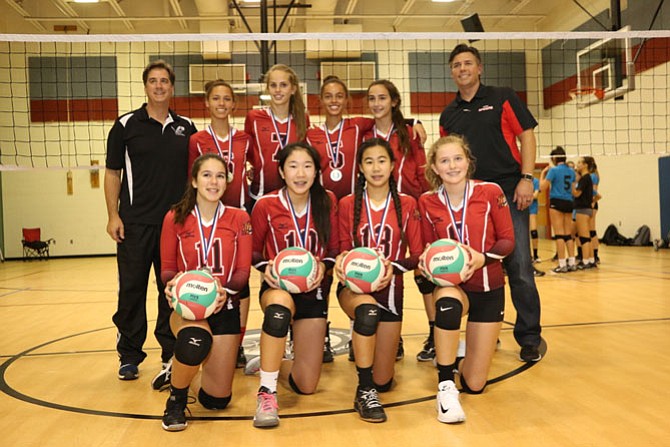 Vienna — The Vienna Youth middle school girls volleyball team completed an undefeated season this fall by winning the Northern Virginia Travel Volleyball League championship. VYI finished the regular season with a match record of 7-0, and a set record of 31-4 (5 sets per match). In the league tournament, VYI won 3 straight matches (2-0, 2-0, 2-1) to claim the league championship.
In a tight final against a highly rated local club team, VYI split the first two sets, building up to a winner take all third. VYI was down 4 points late in the third set, and came roaring back behind their passing and defense, digging several hard spikes and putting up a huge block to seal the win.
"Our girls never gave up, even when we were way down in the third, and every single player contributed to the win," said head coach Rob Garrett. "We always focus on the fundamentals in practice – serving, passing, proper footwork and eliminating mistakes. That's how we were able to stay in the match against such a powerful club team."
VYI will hold advanced player clinics and tryouts this winter for the spring travel season. There will also be player development clinics for the spring house league. For more information on VYI Volleyball, go to vyivolleyball.org.