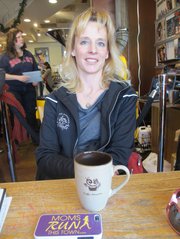 While most of local life was inside trying to stay toasty-warm during January's big freeze, one group of Vienna-Oakton women braved the frigid temps, the snow, the ice, to maintain their daily runs. Vienna-Oakton Moms Run This Town, a group of 600-plus "moms," ran as many as 18 miles in a single day. Sarah Talley founded the Vienna-Oakton group, an arm of the free-to-join international network of Moms Run This Town.
"The power of a group is motivating," said Talley, who belongs to several running groups. "We are having fun. Because if you're not having fun, why do it?"
The draw of the Vienna-Oakton Moms Run This Town Facebook page is that individuals post requests for partners or to create a scheduled run. Unlike many Facebook pages, the page for www.facebook.com/groups/vienna.va.mrtt/ is constantly interactive.
"You can catch a run any day of the week," said Talley. "Different times, different pace groups.
"The key is that you, as a member, have to be proactive."
Talley extols the virtue of safety in numbers. "Be an advocate of running safely, toward traffic, with a partner."
Her husband's job with Exxon-Mobil moves the family about every three years. Talley moved to Vienna in 2011 and will be leaving the area for Houston in 2015. Her co-leaders, Beth Graham and Lynn Collins, will take over. Talley said she could not run this alone.
"I had always used running as a way to settle in to a community," said Talley. "What I like is meeting people and making all these different connections."
The Vienna-Oakton MRTT is one of the largest Moms Run This Town chapters in the nation.
Group runs are, typically, broken down into "pace" sub-groups. Faster runners are not held back and slower runners are not frustrated. "It works," said Talley, who noted that the group has walkers to elite runners. In each large group-run, every runner is paired with, at least, one partner for safety reasons.
Talley credits her "very supportive husband and family" for appreciating her passion. Like most of the running moms, Talley runs when her children are in school.
"We very much want to be involved with the community," said Talley. "We'll run the W & OD, meet at Caffe Amouri after Saturday runs. Michael [Amouri, Caffe Amouri owner] is very supportive of us."
More than a half-dozen groups have splintered from the Vienna/Oakton Group, counting Gainesville, Herndon/Reston, McLean/Tysons, Falls Church/Annandale, Woodbridge/Manassas, Fairfax/Chantilly, Ashburn, and Moms Tour de Town cycling group.
Additional Northern Virginia chapters include Alexandria/Arlington, Springfield, South Riding/Stone Ridge and Winchester.
"One thing I would like to add about MRTT's community involvement that is very important to me is to bring our running communities together," said Talley. "We work closely with Pacers, Athleta, Galloway DC, Road Runner, Potomac Running, VA Runner, DC Capital Striders, all of which have their own running programs. In my mind, we have made those friendships and are all working together to help our members reach their personal goals.
"MRTT is a network and support system to help women become the people they want to become."
For information on Vienna-Oakton Moms Run This Town, email viennaoaktonmrtt@yahoo.com.
The Vienna-Oakton MRTT Facebook page, www.facebook.com/groups/vienna.va.mrtt/, is a closed-group Facebook page but Vienna-Oakton running "moms" are invited to join the group. To find the nearest chapter, see www.momsrunthistown.com
.