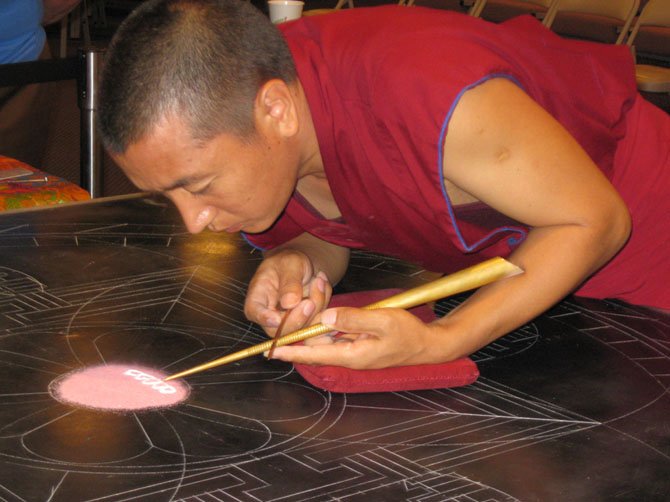 Photo Gallery
The Mystical Arts of Tibet
Click Photo for Flash
For five days last week, Unity of Fairfax Church hosted The Mystical Arts of Tibet, a touring group of 11 Tibetan Buddhist monks who worked in shifts to create a mandala sand painting on a template etched on a 4x4-foot wooden platform. They are from the Drepung Loseling Monastery near Lhasa, Tibet, but cannot return due to Chinese oppression.
The mandala that was created July 23-28 honored "Akshobhya," the Buddha of conflict resolution and peace. Mandala is a Sanskrit word meaning sacred cosmogram.
While on tour, the monks also perform ritual chanting, and sacred music and dancing. Unity also offered lectures on the "Symbolism of the Sand Mandala and Tibet Today: The History of a Diaspora." About 70 volunteers from Unity worked in two-hour shifts helping with the tour.
"The symbolism of the mandala is a sacred object of contemplation," said Lobsang Norbu, who is an Acharya, a master in Sanskrit, and spokesman for the tour. "There are many different meanings you can take."
Norbu said conflict resolution is achieved through wisdom, loving kindness and compassion. The monks spend four or five years in apprenticeships to learn the art of mandala sand painting, he said.
"We have a core value about bringing peace awareness in the world," said Rev. Russell Heiland, senior minister at Unity of Fairfax. "Because this mandala is for peace, then the creation of it becomes a meditation on peacefulness."
After it was completed, the mandala was destroyed as a metaphor for the impermanence of life, said program coordinator Carolee Egan of Oakton. Half of the sand was swept up and given to congregants in the closing ceremony on Sunday where it was then placed into the stream at Eakin Community Park off Prosperity Avenue. The water currents spread the blessed sand throughout the oceans for planetary healing.
"We are trying to make the spirit of water—or "Naga" in Sanskrit—happy. It's a kind of cycle of life," said Norbu. "And through that we can bring peace and harmony into the world at large."
The idea behind releasing the sand into a creek or river benefits those who touch the blessed sand, said Norbu. If there's not enough rain to grow food, then there's not enough food to eat, and this creates conflict, he added.
"Our church is really trying to foster peace in the world," said Egan. "What I get out of this event is in the midst of conflict, [the monks] can create peace, and bring attention to what the Tibetan culture is going through."
For more than a year, the monks have toured 40 states and around the world. There is a second group touring the West coast. To date, the monks have created mandala sand paintings in more than 100 museums and colleges. The Mystical Arts of Tibet is co-produced by Richard Gere Productions and Drepung Loseling Institute and endorsed by the Dalai Lama.