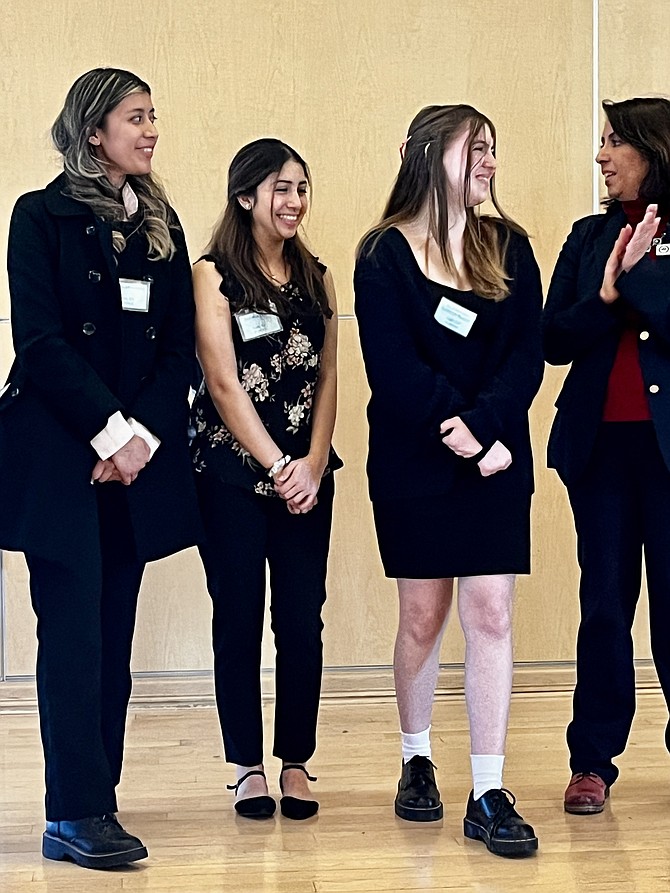 The 
2023 Student Peace Awards of Fairfax County
 go to twenty-seven individuals and groups selected from public and private high schools county-wide. On March 19, families and friends of the awardees, event sponsors, and dignitaries gathered at Fairfax's Stacey C. Sherwood Community Center to meet the students, honor them, and learn about their peacemaking achievements. Guests included U.S. Rep. Gerry Connolly (D-11); Del. Ken Plum (D-36); School Board Chair Rachna Sizemore Heizer (at-Large); school board members Dr. Ricardy Anderson (Mason) and Elaine Tholen (Dranesville); as well as guest speaker Amelia Kegan, associate general secretary for policy and advocacy with the Friends Committee on National Legislation. 
Margaret Fisher, program co-founder (2006) and organizer with Herndon Friends Meeting, said the schools chose their awardees because they promoted peace, "and that is defined very broadly." 
"It's really up to the schools to decide." Service and work can promote peace as well as prevent causes of violence: poverty, discrimination, and injustice.
Awardee Matthew Sullivan, a junior at Madison High School, planned and ran a fun run to raise money for the Stroke Comeback Center in Vienna, which helps people recover from strokes. "We had over 25 runners and raised more than $10,000.," Matthew said. "In addition to the fun run, I also held my Eagle Scout project with the center. For my project, I created a small library. I dedicated it to the center's recently retired founder, Darlene [Williamson]," he added.
Amelia Kegan, Friends Committee on National Legislation, said being a peacemaker is a long journey and "a lot of work." A peacemaker's progress is made "piece by piece."
"Often, it is not covered by the news, but those glimmers of light shine through, and I get to witness and work with communities of people across the country, pushing for peace," Kegan said.
Among the work of the 2023 award recipients is the establishment of student-led organizations for making shoes for children in Uganda, led by Estelle Ostland, a senior at Chantilly High School.
Ella Duncan-High, a senior at Edison High School, is the outreach director for Generation Ratify's Virginia chapters. It is a movement led by young people that advocates for Black maternal rights, abortion access, and LGBTQ rights.
The violent crime death of her brother inspired Aaliyah Garnett, a junior at Mountain View High School, to educate herself about racial injustice, the history of racism, and white supremacy. She marched for Black Lives Matter, and, believing in the power of the pen, wrote an article for the Mountain View Mirror advocating for peace and equity.
The Social Change Club at Thomas Jefferson High School for Science and Technology developed a curriculum for an ethnic studies elective. They anticipate it will be piloted in the summer of 2023 and made available to TJ students in 2023–2024. Club members hope that it will be available throughout the county.
Fairfax County School Board member Elaine Tholen (Dranesville) said she was proud of their students who work in our communities "to promote kindness and peace for all of us."
"I'm honored to be here because our students are our future," said Sizemore Heizer. "Watching these students do incredible work in their community to make their community better and have students work for peace and kindness in the world is meaningful."
Peacemaking is a vital process. Bree Yanger, a junior at Langley High School, expressed other feelings motivating her, such as inspiration and drive. Yanger helps refugees by facilitating Zoom sessions to assist with homework, college preparation, and cultural assimilation. In addition, she gathered more than 100 coats and founded an English-language program for young Afghan women.
"Seeing all the refugees be so thankful and really having the desire and motivation to keep going and keep learning was inspiring for me to keep teaching them. They've been through so much more than I have. … I never felt uninspired or tired because they kept me going," said Bree.
Students who work for peace, according to Fisher, should be encouraged. The recipients will receive $250 in the 2022-2023 school year, plus an additional $100 to be donated to any nonprofit organization of their choice that operates consistent with the Peace Award's spirit.
Herndon Friends Meeting informed the students of their awards as soon as possible so that they could include it in their resumes. Certificates will be presented to them at their respective schools, typically at end-of-year awards ceremonies.
Del. Plum (D-36) thanked the students for being willing to be involved in activism for peace. "We set our values oftentimes when we are young, and those values come forth in the future. Peace will be realized, not when some dictator dictates it. … Peace will come about when people develop an approach, an attitude toward resolving issues among people, and working towards peace."
Connolly said, "Peace is a fragile thing. Peace has to be fought for, but peace has to be more than the absence of violence. Peace has to be about empowerment. Peace has to be about society building where people are free to live up to their full potential irrespective of where they come from, their ethnic background, their religious background, their social background, their sexual orientation, their gender.
"Everyone — every human being — ought to be able to live up to his or her full potential. That ought to be the goal of any free society, and that creates peace," Connolly said.
To view the student profiles by school visit, Student Peace Awards of Fairfax County.
SPONSORS
 Each sponsor, all not-for-profits, contribute a minimum of $200 yearly to defray the costs of the cash awards, certificates, and the March reception for awardees and their families.
Accotink Unitarian Universalist Church, Burke; Alexandria Friends Meeting; Alexandria South Rotary Club; All Dulles Area Muslim Society, Sterling; Cornerstones, Reston; Daniels Run Peace Church, Fairfax; First Church of Christ, Scientist, Fairfax; George Mason University; Jimmy and Rosalynn Carter School for Peace and Conflict Resolution; Herndon Friends Meeting; Holy Cross Lutheran Church, Herndon;; Langley Hill Friends Meeting, McLean; Northern Virginia Hebrew Congregation, Reston; Rotary Club of Annandale; Rotary Club of Herndon-Reston; St. John Neumann Catholic Church, Reston; St. Mark Catholic Church, Vienna; Stewart R. Mott Foundation, Washington, D.C.
United Christian Parish of Reston
2023 Student Peace Awards Recipients
Annandale HS – Filimon Meaza
Centreville HS – Debora Horng
Chantilly HS – Ella Ostlund
Edison HS – Ella K. Duncan-High
Fairfax HS– Adan Eftekhari
Falls Church HS – Lucia Patino Iporre
Hayfield SS – Ash Bulmer
Herndon HS – Amanda Green
Justice HS – Girl Up
King Abdullah Academy – Nadine Elosta
Lake Braddock SS – Jessica Nicole Sim
Langley HS – Bareen Yagana
Lewis HS – Mohamed Karim El-Gaili
Madison HS – Matthew Sullivan
Marshall HS – No Place for Hate
McLean HS –Saehee Perez
Mount Vernon HS – Amare D'Agostino
Mountain View HS – Aaliyah Green-Garnett
Quander Road School – Frank Marquez
Robinson SS –Jaeda Lawton
South County HS – John Claude Shaffer
South Lakes HS – Urooj Khattak
Thomas Jefferson HS for Science & Technology –Social Change Club
West Potomac HS – Sarah Salama
West Springfield HS – Muqtader Zahid
Westfield HS – Cameron Kasper
Woodson HS – Woodson UNICEF
 The Student Peace Awards of Fairfax County were begun in 2006, with one high school, Herndon High, and one sponsor, Herndon Friends Meeting. Its purpose was to encourage people to think more about peace as both a means and an end and to recognize young people who work as peacemakers. It is organized by volunteers and funded by donations. Every year, high schools in Fairfax County are asked to select one junior or senior or a group of students by early December whose work has promoted peace.