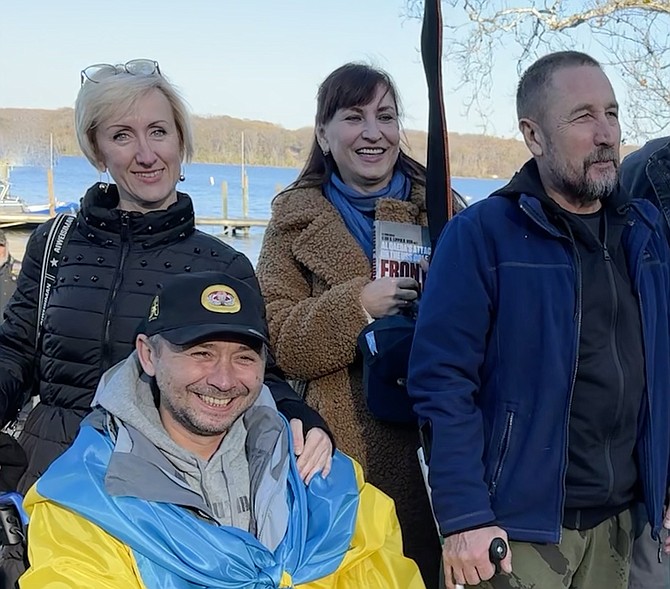 Photo by Susan As the war in Ukraine continues with brutal shelling of civilian targets, humanitarian catastrophe mounts in a war not confined to soldiers or distant battlefields. For millions of women and girls, the ongoing war continues to take a heavy toll as it grinds on. Whether joining the fighting at the front, remaining behind, or fleeing, the United Nations warns for women "access to livelihood opportunities and basic services, including life-saving sexual and reproductive health care and information, has been severely disrupted." 
Two Ukrainian women share their experience of the war. For the past three to four months all their time has been spent in hospitals supporting their husbands who lost legs while fighting for Ukraine. Iryna Kirda and Iryna Tyshchenko, are now in the Washington metro area temporarily, while accompanying their husbands, who are being fitted for prosthetic devices in Silver Spring, Md. 
Before the war, Kirda, who has four adult sons, was working as a nanny. She supplemented her income by leading a 'health group' — what we would call women's exercise classes. After Russian bombardment of her Kiev suburb, she was evacuated from her home for a time. Once she could return, she spent her time holding charity events to support the war effort.
Before the war, Tyshchenko was an anchor for a television news station. On the first day of the war, all the television stations closed. From the first day, food disappeared from shelves, and they could not withdraw money from the banks. Her apartment in Kharkiv was heavily bombed. The Russians were close by, but not where she was. So friends came to hide in the basement of her building, though rockets flew overhead and a plane was shot down just a kilometer away. As the Russians were eventually pushed farther away, their rockets and drones remained a threat. True to her journalism profession, she has been taking videos to document the destruction of her apartment building and other devastation. Her adult daughter evacuated to the Czech Republic.
Both women speak of the difficulties and how hard life has become. Both talk about how very scary it is to wait for a call with news of their husbands. Kirda says she doesn't know how God gave her the strength to survive. But she knew she had to be strong when that dreaded call did come saying her husband was wounded so badly. She knew he would look in her eyes for her reaction and she would be ready to show her support for him. 
For the moment, life is a little easier. They said they feel so lucky to come here and love the United States, calling the opportunity to have the help a blessing. While their husbands enjoyed a day of fishing on the Potomac, a Ukrainian friend took them shopping at T.J Maxx and Nordstrom Rack. They described doing more looking than buying, but hoped to find small gifts for those waiting at home. 
What's next for them is hard to know. They will remain here while their husbands are under medical care until mid-December. Tyshchenko is videoing the care to show American cutting edge procedures to doctors at home. 
They expect to return to Ukraine where life continues to be difficult and dangerous in the coming winter without reliable power, water, food or safety. And while their husbands are determined to overcome their wounds, the women are likely to take on additional continued responsibilities to assist in their care and recovery.
In a policy paper released in September, the United Nations outlined the devastating impacts on women and children. "The war in Ukraine has led to more than 4.2 million refugees and over 7 million internally displaced people, most of them women and children. The war contributed to growing risks, including trafficking, gender-based violence, sexual exploitation and abuse, and forced labor. … The war has widened gender gaps in food insecurity, malnutrition, energy poverty, and increased gender-based violence inside Ukraine and around the world. Women-headed households in Ukraine were already more food-insecure prior to the war, compared to male-headed households. Rural women in the territories occupied by the Russian military are increasingly unable to perform agricultural work due to high insecurity and lack of resources. Certainly a disproportionate share of the responsibility to accommodate, feed, and care for internally displaced people is adding to the burden of Ukrainian women, multiplying their domestic responsibilities."
The U.N. includes a need to "prioritize women's and girls' voice, agency, participation and leadership in conflict response, recovery, and peace building," among their recommendations for dealing with this humanitarian crisis. They have names like Anastasia, Boyka, Daniela … and Iryna.