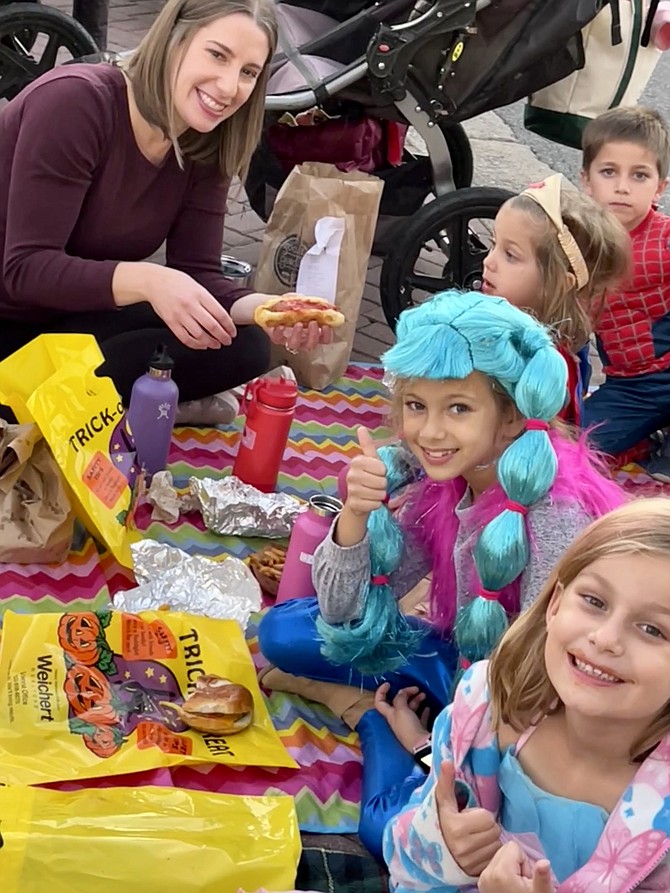 On Wednesday, Oct. 27, the 75th Annual Vienna Halloween Parade 
returned in its entirety, unlike last year's limited "Wave Parade," due to the COVID-19 pandemic. Town of Vienna Parks and Recreation and the Vienna Business Association coordinated, the hour-and-a-half-long parade featured 64 floats and other forms of entertainment marching down Maple Avenue, from Branch Road to Center Street.
The lineup included the Vienna Police Department, Town Council, local and regional politicians, businesses, schools, Northern Virginia Firefighters' Emerald Society Pipe Band, children in costume and more. "The Roaring Twenties"  served as the theme for this year's procession.
Along the half-mile parade route, people crowded in rows five and six deep, shoulder to shoulder, many dressed in costumes, to watch the parade. Spectators set up their viewing spaces with blankets, chairs, and grab-and-go dinners purchased from local restaurants, as they settled in for an evening of small-town fun. No vendors were allowed at the Halloween Parade.
The Adams and Kapoor families of Vienna were among the first to arrive. According to Christie Adams, this was their first year. Veteran parade goer Emily Kapoor said, "I expect it to be at least as good as 2019, if not better." The Cerney and Geesaman families of Vienna set up their viewing area a short distance down the sidewalk. Sawyer Cerney, 3, said that she came to try out her cat costume.
Organizing a Halloween parade for the enjoyment of local children and their families has been an annual tradition in Vienna since 1946. This year, Rustic Love Vienna 
https://rusticlove.org/
 and the Vienna VA Foodies served as Grand Marshals. Virginia Tire & Auto served as the event's title sponsor.