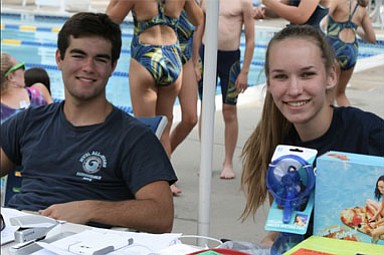 Vienna — For Shouse Village swimmers, Monday nights are synonymous with swim meets, and rarely do they get a break. But on June 25, instead of relaxing on their night off, swimmers and parents gathered at the neighborhood pool to give back to the greater community in the team's annual Swim-a-Thon.
"It's not like a normal charity event where you're just donating money," Swim-a-Thon Co-Chair James Bouharoun, 17, said. "Kids are having fun swimming laps, eating food and they're enjoying their time that they spend there, and all the money's going toward a good cause."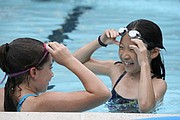 The Swim-a-Thon is an annual fundraiser that brings the team together to raise money for a local charity. Swimmers ask family, friends and neighbors for either a flat donation or a pledge per lap, then they swim as many laps as they can to earn money for the cause. In the past, beneficiaries have included KaBoom!, INOVA Children's Hospital and Down Syndrome Association of Northern Virginia.
This year's beneficiary is HSC Pediatric Center, a children's hospital in D.C. that serves children from birth to age 21. The money raised by Shouse swimmers will go to an emergency fund to help families with unexpected medical costs that aren't covered by insurance.
"It's really nice to see the kids that are on the team get passionate about something that's for a good cause," Swim-a-Thon Co-Chair Maren Kranking, 17, said. "The kids talk about how much money they want to raise or how many laps they want to swim, because they're really excited to get that money, so I think that's really cool."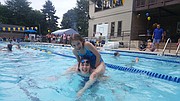 Not all of the money has come in yet, but the co-chairs have calculated that the event raised at least $5,400, and that number is going to grow throughout the summer. Nearly $500 came from a concession stand set up at the event.
"All of the materials that we sold were donated from parents in the community," said Stephanie Abraham, a volunteer parent mentor for the co-chairs. "That's how we were able to maximize the charitable contributions."
With the parent mentors available to help if needed, the co-chairs planned, organized and ran the event. Abraham said she was more "on the sidelines" and helped mainly to communicate between the co-chairs and swim team parents.
In preparation for the event, Bouharoun and Kranking went to local businesses to ask for food donations, coordinated parent volunteers and organized a silent auction, among other things.
The co-chairs and Abraham agree that this year's Swim-a-Thon exceeded all expectations.
"Our goal this year was to maximize our charitable contributions, to teach fundraising to the kids on the Shouse Village swim team and also to have fun," Abraham said. "I think that we accomplished all three."