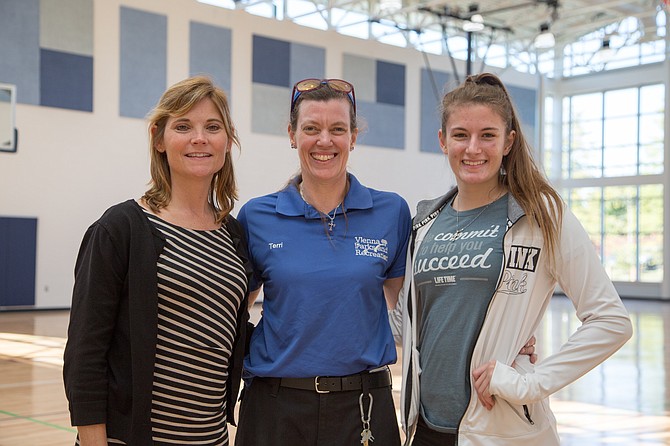 Originally built in 1966, the Vienna Community Center has been serving the community of Vienna for 51 years. The building has been renovated four times and undergone a few additions since. However, as of Wednesday it reopened to the public as a new building with a brand new gym.
Vienna Youth Incorporated, a youth sports program that offers sports programs to children in Vienna, donated $1 million.
"They are particularly excited about the new gym for their basketball program, and they also use the gym for their volleyball program," said Leslie Herman, Vienna resident and director with Vienna Parks and Recreation.
The $13 million needed for the renovation came mainly out of the pockets of taxpayers in the Vienna community.
The building has new concrete floors, two gyms which have been renovated with new hardwood flooring, security protected administration offices, and it is accessible to people with disabilities with graded floors and elevators.
There is a teen space located in the basement, called Club Phoenix and two multi-purpose classrooms upstairs.
Many people are excited to use the new community center which re-opened after renovations on Oct. 4. Custodian Terri Tufano was present with her daughter who teaches gymnastics classes in the newly renovated auxiliary gym.
"I love the people, it's like a family and everybody is friendly. It's nice," said Tufano.
The renovations were not without their problems. Mainly, the old structure of the building had to be updated to comply with code for the city of Vienna Public Works Department.
"They found some sand in the soil which was bad, so to make the asphalt sit properly they had to replace it so it took longer than expected. Also there were some issues with the old foundation in places," said Herman.
Now that the center is re-opened to the public, Vienna residents can use it for free and non-residents have to pay a $3 fee.
"The fee is part of the benefits of living here in town," said Herman. "Your taxpayer benefits paid for the building."
Brandy Wyatt, coordinator at the Vienna Community Center was excited to be back in business with the community. "The expansions of our programs and the renovations gave an old building a new look," she said. "We've been smiling since we got in here."