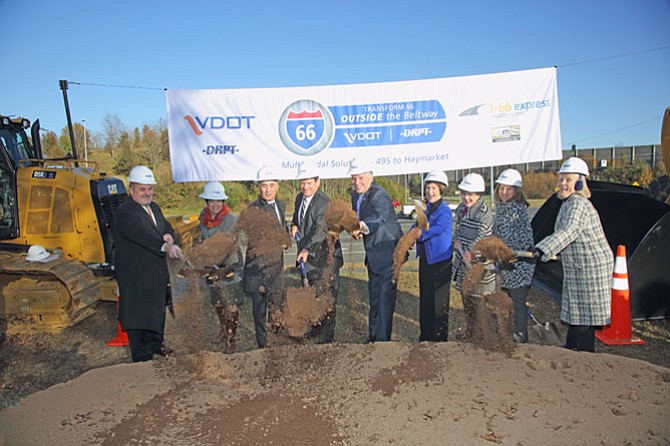 Centreville — A five-year road project to build express lanes on I-66 was kicked off on Monday, Nov. 20 as officials grabbed the golden shovels and smiled for the cameras in western Fairfax County. Gov. Terry McAuliffe (VA-D) was there with officials from the Virginia Department of Transportation, Department of Rail and Public Transportation, federal, state and local partners, and the Commonwealth's private partner, I-66 Express Mobility Partners.
"This project will reduce congestion, stimulate economic growth and improve the quality of life of commuters all over the Northern Virginia region," said McAuliffe, in a release issued by his office.
When completed, I-66 will have two express lanes in each direction stretching nearly 23 miles from I-495 to Gainesville, and three regular travel lanes. These express lanes will be free for cars with at least three occupants, and a toll option for cars with one or two occupants. All tolling will be done with the EZ-Pass, or the EZ-Pass Flex for the carpool vehicles to avoid the toll.
Initial construction will begin on the project over the next few weeks, and by the spring of 2018, construction will be ramped up throughout the corridor. Regular construction-related updates will be available on Transform66.org as well as through news and social media channels.
For the portion of I-66 inside the beltway during rush hours, a toll option for single occupancy vehicles is beginning on Monday, Dec. 4. More details on this portion of I-66 is available on Transform66.org as well. Express Lanes "Fair Travel," tips can be accessed here.