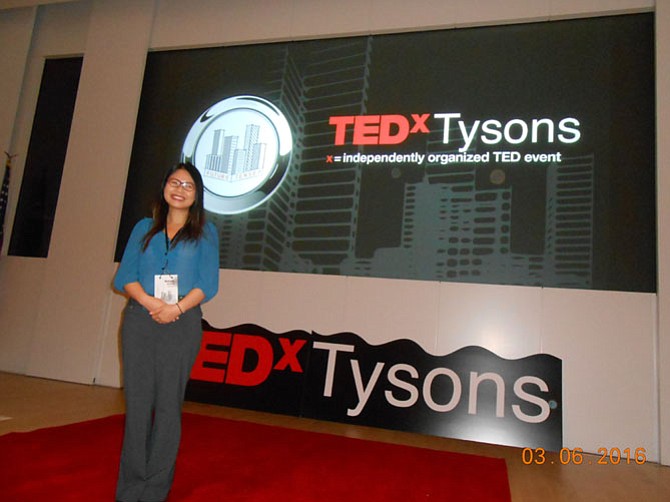 TEDx, a nonprofit program that presents local speakers devoted to "Ideas Worth Spreading," made its Tysons debut on Friday, with a lineup featuring nine different speakers and two performers. The theme of the inaugural TEDxTysons event was "Future Tense," as thinkers, artists and innovators discussed ways to better shape the future.
TedxTysons founder Ashwood Heffern explained the reasoning behind the theme, saying, "What's everyone worried about, because the news today and the articles you read, it's so grim. Rather than worry about things that aren't an issue, I want experts in their field who are working on something to solve a problem or tell me how I can help."
Among the talented and inspiring speakers, Diana Sierra is the co-founder and CEO of Be Girl. Her company creates menstrual management products, as girls in impoverished areas often skip or drop out of school because of issues related to menstruation. As Sierra put it, "This bloodstain is what stands between a girl and her ability to access education." Another particularly inspiring talk came from John Bailey, second vice president of the National Federation of the Blind of Virginia, who refused to let his blindness get in the way of his success. Bailey described how he changed his mindset, concluding by saying: "The solution is simple. Take off your blinders; see your options!"
The event, which ran 1-5 p.m. at the TEGNA/Gannett building on 7950 Jones Branch Drive, quickly sold out. TED mandates inaugural events have no more than 100 attendees, and one must apply beforehand. The diverse audience ranged in age, mostly comprising working professionals, both young and old, whose appreciation for the speakers was evidenced through their loud cheers.
"We're so used to our routines in our life, and it's just nice to take out that element, and you're surrounding yourself with inspirational people and hopefully it rubs off on you," said student Vivian Dang, who like many attendees, had never been to a TEDx event before. "I've seen a lot of Ted Talks online on YouTube. It's a nice way to fuel your ambition," said Dang.