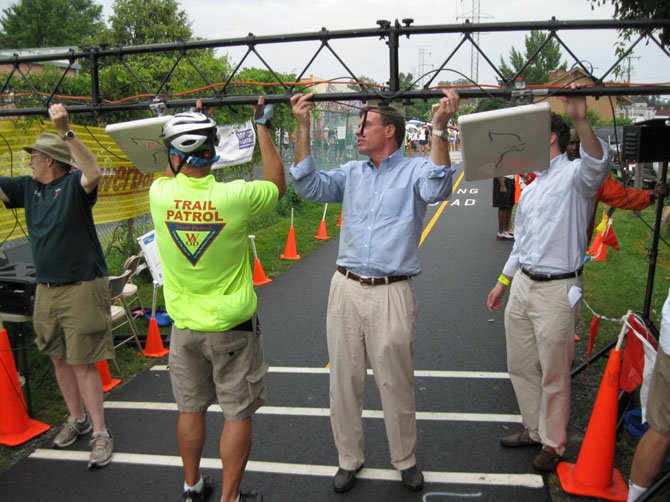 Photo Gallery
10K Racers and Crew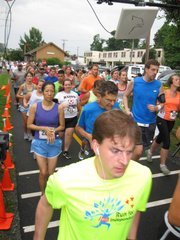 Click Photo for Flash
Some 320 runners took part in the seventh annual Friends of the W&OD 10K Race in the Town of Vienna on Saturday, July 27, helping to raise $3,500. The Washington area's only "Green Race" started at the caboose at the old Vienna Train Station and proceeded along the 12-foot wide W&OD Trail. Present at Centennial Park to greet the runners was Sen. Mark Warner (D-Va.), who is an avid cyclist and fan of the trail. He presented a flag flown over the U.S. Capitol to Roger Neighborgall, 90, president of the Friends of the W&OD Trail. Other dignitaries in attendance included State Sen. Chap Peterson (D-34) and trail adopters Loretta and Mike Paruti.
Proceeds from the race benefit the Friends of the W&OD Trail through upkeep and maintenance of the trail, exhibits and equipment, said Karl Mohle, park manager of the W&OD Trail. Virginia Hospital Center, recently named one of the 100 top hospitals in America, was the main event sponsor.
"Everybody loves the W&OD Trail," said race organizer Jay Jacob Wind, 63, of Arlington, who runs 60 miles a week. "It's one of the great treasures of Northern Virginia."
The 44-mile rail trail is owned by different park authorities in the area. It starts in Shirlington, runs through Falls Church, Leesburg and extends to Purcellville. The trail connects to the Custis Trail, C&O Canal, the Mount Vernon Trail, and the Potomac Heritage National Scenic Trail, which has 400 miles in place now. It also extends 330 miles to Pittsburg, Pa., and when the entire trail system is completed, it will traverse through 800 miles on both sides of the Potomac River.
"The progress of this trail is a great benefit to the community," said Ric Francke of McLean, executive director of the Potomac Heritage Trail Association, which has 35 members. He said the W&OD trail is the most heavily used "rail trail" in the U.S., along with the Minuteman Trail outside of Boston. In the late 1960s, the W&OD Railroad stopped operations and the stone gravel and rail lines were paved over with asphalt to create the W&OD Trail.
The 10K race coincided with the seventh annual College of the Environment, which featured 16 exhibitors at Centennial Park in Vienna.