The McLean Cycling Club is back from a journey over the Great Allegheny Passage (GAP) rail-trail and the C&O Canal Towpath. From Saturday, Oct. 13 to Wednesday, Oct. 17, the group traveled 330 miles down trails canopied by trees, across viaducts, through long tunnels, beside rivers and over the heart of Pennsylvania coal country.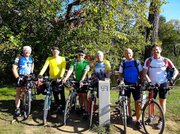 "The high point of the entire trip, both literally and figuratively, was crossing the Eastern Continental Divide" said Rick Schafer, the club president, who leads the club on its regular weekend D.C., Virginia and Maryland rides.
The GAP is built on a former rail line and has a crushed limestone surface making for a smooth ride with an average grade of 1 to 2 percent or less for 145 miles. Only a couple of miles remain under construction to connect the beginning of the trail at Homestead with downtown Pittsburgh.
The C&O Canal towpath is much less improved than the GAP. Originally built for mules rather than railcars, it has plenty of tree roots, ruts and mud.
Paul Wessel, who planned the trip, had completed much of the ride several years ago. He was enthusiastic over the improvements that have been made in both trails. A section of the C&O trail at Big Slackwater which had been closed to visitor access since it was damaged by floods in 1996 was just reopened after extensive repairs, saving the group a five mile detour. Another trail section at Great Falls is nearly repaired as well.
Information on the McLean Cycling Club can be found at http://groups.yahoo.com/group/McLeanVaCycling.